NEWS
Partial RC17 Archives
Posted on: 10.12.23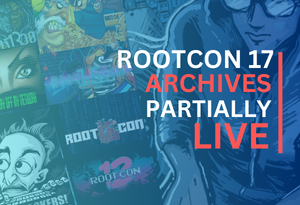 With immense gratitude, we can now put ROOTCON 17 to the books, leaving us with unforgettable memories, experiences, and of course, a wealth of knowledge to carry forward. Our sincerest thanks to all con-goers, sponsors, speakers, and staff who made ROOTCON 17 a resounding success.

Today we are excited to announce that our extensive archives are now partially processed and now available for viewing and download.

Check out ROOTCON 17 Archives page for details, if you want to indulge in watching the talks visit our YouTube ROOTCON 17 Playlist.

Village Track videos are underway stay tuned.
Taal Volcanic Smog
Posted on: 09.22.23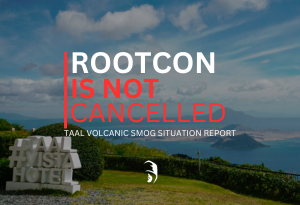 We have been receiving calls, texts, and emails regarding the situation of the Taal Volcanic Smog. To clear things up, here is an official statement from both ROOTCON and Taal Vista Hotel.

Quote from Taal Vista Hotel Operations
"As of September 21, 2023 at 4:00PM per the advisory of the Municipal Disaster Risk Reduction and Management Office, there is a presence of volcanic smog caused by the Taal Volcano. Taal Vista Hotel is situated in Tagaytay City, Cavite, which is about 27 kilometers away from the Taal Volcano. While there is no immediate or direct hazard expected to affect Taal Vista Hotel at this time, the management continues to monitor the situation through constant coordination with the local authorities."

Manila Times: Phivolcs allays fears over Taal smog, no need to raise alert level

We are working closely with Taal Vista Hotel to monitor the situation and come up with a contingency plan should this situation worsen. We will be doing an ocular the soonest possible time to assess the situation. Rest assured the safety of our crew, con-goers, speakers, and sponsors is our utmost priority.

Keep your radars open on our social media channels for announcements.


RC17 Schedule Is Now Live!
Posted on: 09.22.23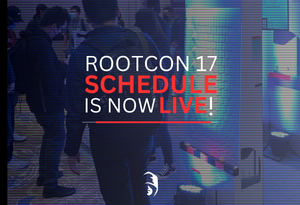 The ROOTCON 17 Schedule LIVE! You may now starting planning your conference experience, parties to attend, villages to visit and of course sponsors to talk to.

ROOTCON 17 is almost here, we are just six days away and we are officially getting psyched.

Visit the RC17 Schedule Page, you can also download the handy RC17 Pocket Guide.


The Parties Are live!
Posted on: 09.7.23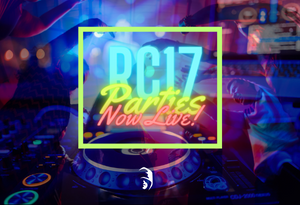 Are you ready to party? Cuz we are, the largest hacker party in the country by far is back this year!

Here's the whole shenanigans

Right after the Day 1 session, After-Dark Party will kick in drinks and a little pica is on us (limited while supply lasts). Aside from all the party drinking that we will be having, the After-Dark Party will be hosting the first ROOTCON Beer Pong Championship (hacker style), Our friends from Emerson who happened to be the sponsor for this party will also be hosting a networking session.

On the second day, we will be having our after-con party AKA Zerø-Hour together with the infamous Hacker Jeopardy.

You may register via Eventbrite and choose Zer0-Hour Party, limited seats only! Your registration will cover your drinks (while supply lasts), pica and we will be having a live band!

We don't want to be a party pooper so have Taal Vista Mobile Bar on standby and ready to serve some beverages both alcoholic and non-alcoholic drinks but of course, this will be paid at your own expense.

Now that's one hell of a party, prepare those dance moves, splendid voice (if you are into singing) and of course those liver!

Can't wait to party with old and new friends! See you there!

Special mention to Taal Vista Hotel for allowing us to extend our party until 2:00AM! Yes you read that right!


Village Updates!
Posted on: 09.1.23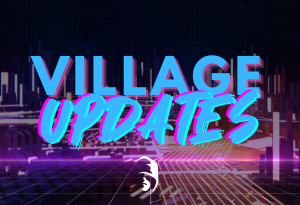 We are days away from ROOTCON 17, and our villages are taking shape! Here is the initial line-up of village talks, more are underway.

Car Hacking Village Talks
Analysis of an In-vehicular network: From CAN bus to infotainment by Div0 CSQ
Present-day vehicles such as the Connected vehicles (CV) include wireless and external functionalities that improve drivers' experiences. CV will continue to play a huge role in our daily lives despite mass adoptions on Electric Vehicles (EV) and testing on Autonomous Vehicles (AV). This talk will feature CSQ's test bench 3 as we explore more features on Connected vehicles. We will talk more about Infotainment systems and the difficulties we face with setting up bench 3 and go through the vehicular architectural differences between test bench 2 and 3. Finally, we will point out some learning points and challenges.

Blue Team Tricks - An overview of Automotive Defensive Engineering By Scott Sheahan
Sun Tzu said, "If you know the enemy and know yourself, you need not fear the result of a hundred battles. If you know yourself but not the enemy, for every victory gained you will also suffer a defeat. If you know neither the enemy nor yourself, you will succumb in every battle." This talk is for car hackers to learn about modern defense measures being added to ECUs and Vehicle Architectures.

Cellular Assault Village Talks
Uncovering Cellphone Risks: Interception and Other Mobile Attacks
In this talk, we'll explore the world of mobile security. We'll dive into how our everyday mobile devices and the communication system connect. We'll uncover different ways that hackers can attack mobiles, from intercepting calls to faking sender names in texts. We'll also dig into how these attacks work, like reading SMS over-the-air. We'll cover both passive and active ways that hackers intercept data. Passive ones quietly gather info transmitted between devices and cell towers. Active methods, on the other hand, pretend to be real cell towers to mess with communications. As we wrap up, you'll walk away armed with insights into the potential risks that our beloved mobile devices face and equipped with knowledge on safeguarding yourself against these digital threats.

Lockpick Village Talks
Safe Cracking 101: manipulating mechanical Group 2 safe locks
Mechanical safe locks have been around for a very very long time, and with good reason, many have no idea how they work. With the obscurity of this safety mechanism, we achieve security. In this talk, we explore the working mechanisms of Group 2 Safe locks, debunk some Hollywood myths and learn to exploit it's inherent weaknesses.

More details a the RC17 Villages
Official Contests Now Live!
Posted on: 08.14.23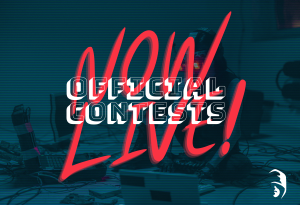 We are thrilled to unveil our highly anticipated and mind-boggling series of gruelling contests that are packed to challenge, inspire, and reward the brightest minds within our community!

Capture The Flag
All our ovens are fired up for this year's ROOTCON CTF! This year, we are bringing you the most grueling ROOTCON CTF to date—all to achieve our goal of highlighting the best and the brightest talents that our local hacking community has to offer! As always, Pwn De Manila stands by its commitment to making intellectually-rewarding and painfully-meaningful CTF challenges that aim to meet ROOTCON's reputation and tradition of bringing organized chaos to con-goers every year.

Hacker Jeopardy
ROOTCON's signature post-Con party game is back this year with more challengjng trivias and alcoholic drinks! Unique this year are the special cocktails prepared by our creative Goons 😁 Think you're still smart enough after several shots and despite plenty of distractions from our lovely Hacker Jeopardy Babes? Then this game is for YOU!

The Mystery Challenge
An immersive challenge that will test your deductive skills, critical thinking, and ability to unravel a cryptic puzzle shrouded in intrigue and of course your hack-fu skills. Prepare to step into the shoes of an amateur sleuth as you navigate through the enigmatic twists and turns of The Mystery Challenge.


Talks and Speakers Update
Posted on: 07.31.23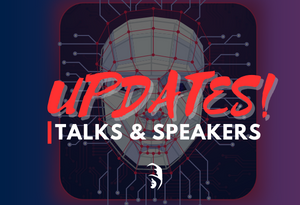 After deliberating all of our CFP submissions, today we are thrilled to share the final list of talks and speakers! Here are the additional talks and speakers who made the cut for ROOTCON 17.

- A 3-Year Tale of Hacking a Pwn2Own Target: The Attacks, Vendor Evolution, and Lessons Learned

- Azure Illuminati: Unveiling the Mysteries of Cloud Exploitation

- Unleashing Cyber Chaos: Evolving Nexus Between Nation-State and eCrime Adversaries

- Scarlet OT - OT adversary emulation for fun and profit

- Crashing Cars, not Systems: Navigating the New Terrain of Browser Fuzzing in Automotive Headunits

- Active Directory Domination through Configuration Abuse and OPSEC


RC17 Final Village Line-up
Posted on: 07.15.23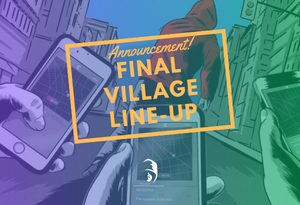 We are excited to share the final village line-up for this year.
Here's the final list of villages:

101 Village

Car Hacking Village

Cellular Assault Village

Lockpick Village

Recon Village

Red Teaming Village

For details checkout the Villages page.
RC17 First Round of Talks!
Posted on: 05.31.23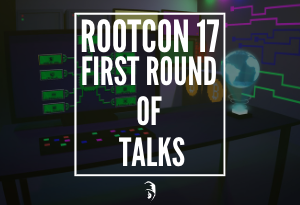 RC17 Website is starting to beef up its contents, today we are thrilled to announce the first round of talks. Whether you are an industry professional, a student, a security researcher, or simply curious about hacking conference, we welcome you to join us in this enriching experience.

Here are the first round of talks.

- AI for Red Team && Malware Development

- Breaking Barriers: Using XSS to Achieve RCE

- Car Hacking Scene in the PH: How Far We've Come

- Hacking Back Your Car

- Old Services, New Tricks: Cloud Metadata Abuse by Threat Actors

- Phish MOMUKAMO: Meticulously Outmaneuvering Malicious and - Unscrupulous adversaries with Knowledge, Action, Mitigation, and Organization

- The Creation of the Out-Of-Band Anti Virus Dock (OOBAVD)

More details at https://www.rootcon.org/html/rc17/talks
RC17 Conference Overview
Posted on: 05.29.23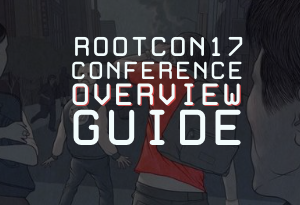 For those that needs a company approval, we are here to help! We are thrilled to announce the availability of the RC17 Conference Overview downloadable file. We have meticulously curated and prepared a quick conference guide to convince your companies to send you to ROOTCON this year. This is an opportunity you definitely don't want to miss!

Here's a sneak peek on some of the highlights inside the Conference Overview Guide

- What is ROOTCON
- Why attend ROOTCON
- Notable speakers
- Schedule Highlights
- Villages
- Conference Price
- Invitation Request Form

Send us an invitation request and we will be happy to send you a PDF file you can use to get approval from your company.

You may download it here: https://rootc.onl/media_rc17_overview
RC17 Registration Now Live!
Posted on: 05.25.23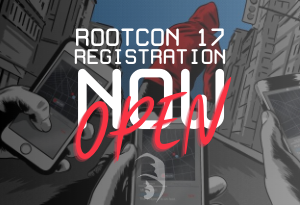 And we are live!.....

We are excited to announce the registration for ROOTCON 17, and we invite you to be a part of another awesome conference experience.

Here's what to look forward to:

* Keynote
* New villages
* Networking Opportunities
* Hacker Parties

and many more exciting and fun activities in store for you!

To secure your spot, register at https://www.rootcon.org/html/rc17/register. Register early to take advantage of exclusive benefits and discounts available for early birds!

We look forward to welcoming you to this year's conference, where you'll have the opportunity to expand your horizons, connect with remarkable individuals, and leave with a renewed sense of purpose and motivation.

Don't miss out on this remarkable event! Register today and be a part of an extraordinary conference experience.
RC17: Call For Sponsors
Posted on: 04.25.23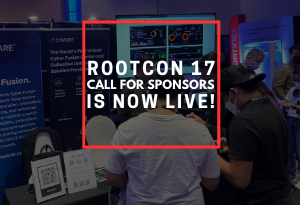 ROOTCON 17 Call For Sponsor is now live!

As a sponsor, you'll have the opportunity to connect with industry leaders, top researchers & hackers, demonstrate your products and services, and build valuable relationships with our attendees. Your support will help us continue to provide a world-class conference experience that is both informative and engaging.

In addition to the exposure and networking opportunities, your sponsorship will also help us keep the conference accessible to all. By supporting ROOTCON, you'll be contributing to the growth and development of the hacking and cybersecurity community in the Philippines and beyond.

We offer a variety of sponsorship levels and packages to fit your budget and needs. From booth space to speaking opportunities and branding.

Don't miss out on this opportunity to showcase your brand and connect with a community of passionate and knowledgeable cybersecurity professionals. Join us at ROOTCON and be a part of the premier hacking and information security conference in the Philippines!

For more information on sponsorship opportunities, please visit https://rootc.onl/sponsorship_request and fill-in your information and our team will be happy to contact you. We look forward to seeing best sponsors this year!
RC17: Call For Papers
Posted on: 04.11.23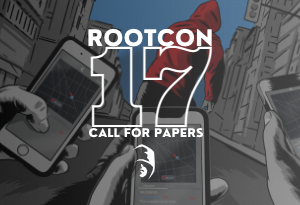 Calling all hackers, researchers, and experts, ROOTCON 17 Call For Papers is now open!

ROOTCON aims to bring together researchers, practitioners, and experts from academia, industry, and government to discuss the latest trends, challenges, and opportunities in the world of hacking. We encourage submissions that present innovative ideas, cutting-edge research, and best practices in the field.

Our main interest for this year should be in relation to our theme which is surveillance and privacy and how it connects to technology.

All submissions will be reviewed by the ROOTCON CFP Review Board, and accepted papers will be presented at the ROOTCON 17.

If you are interested check out the Call For Papers page to know more about the details.
RC17 Theme
Posted on: 02.14.23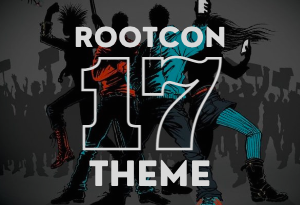 This year's theme revolves around surveillance, privacy and technology.

Surveillance, privacy, and technology are all closely interconnected topics that have become increasingly important in the modern world.

The intersection of surveillance, privacy, and technology has become increasingly complex in recent years. On the one hand, technology has made surveillance easier and more widespread, allowing for the collection and sharing of vast amounts of data. On the other hand, technology can also be used to protect privacy, through the use of encryption, privacy-focused tools, and other means of securing personal data.

As society continues to grapple with these complex issues, it is important to consider the balance between surveillance and privacy, and to ensure that technology is used in a responsible and ethical manner.

Plans
For our con-goers to have full ROOTCON experience ROOTCON 17 will be executed fully as physical conference. We are no longer offering hybrid this year. Exciting times ahead, we hope to see everyone this year! Hack-on....

Look n Feel
Color Scheme:
#9E4F33
#456176
#4D4C4F
#50A4B2

RC17: Call For Villages
Posted on: 02.14.23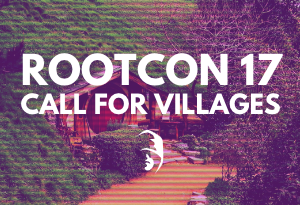 The machines for organizing ROOTCON 17 are upon us, we will start off with expanding ROOTCON villages. We are now opening Call For Villages to the public and to all our con-goers who desire to organize a village within ROOTCON.

What are a villages?
Villages are mini events with specific topics and goals held and exhibited with the conference.

Who are the village organizers
Village organizers are same-minded individuals who are enthusiastic in sharing their research.

If you have any sort of village that you want to bring to ROOTCON now is the time! You may visit the Call For Villages page to submit your application.
RC16 Archives Partially Available
Posted on: 10.06.22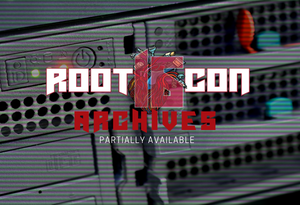 We have recuperated from sleep deprivation for the last 8 months, ROOTCON 16 Archives is now partially available and is already good for human consumption.

We are working on getting the remaining slides and videos into the archives in no time.

Check out the RC16 Archives for your reading and watching pleasures.
More news...